Book The Innocent Bystanders For Your House Party, Corporate Event, Wedding, Bar Mitzvah, Bar or Coffee House
The
Innocent Bystanders are a cover band providing a fun evening of stylish rock, soul, and Rat Pack jazz music mixed with humor and personality. The band has played at many private homes and party rooms and can work effectively with whatever space you have. They also have experience with corporate events at large venues, including PetCo Park, the Rancho Bernardo Inn, Carlton Hills Country Club, Thomas Jefferson School of Law, and the Otay Ranch Town Center. The band also regularly performs at bars and night clubs throughout San Diego County, including Boar's Crossin', Kensington Club, The Merrow, Navajo Live, Pal Joey's, The Kracken, and Tin Roof.
The band performs cocktail and dinner sets for periods when your guests prefer to mingle and chat. But when it's time to dance, the Bystanders know how to ratchet things up! They take requests in advance and will happily plan whatever special things you'd like incorporated into the show. Between set playlists can also be tailored to your needs, and the band welcomes guest vocalists. You won't find a cover band playing more rock and soul favorites for twice the price.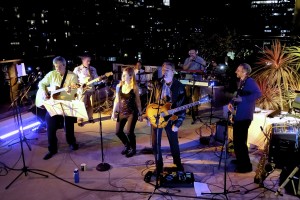 The band provides its own professional PA and lights, or it can integrate into any on-site system. And the band members are committed to making live music available for any event. They will provide performances to meet any budget.
You can contact the band at semerarosteven@gmail.com